Sparkle Unleashed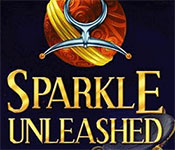 Sparkle Unleashed
System requirements:
* OS: Windows 7 / Vista / XP
* CPU: Pentium 3 1.0 GHz or Higher
* Memory: 256 MB
Sparkle Unleashed
: Experience the fabled Sparkle brand action puzzle like never before! Make your way through a secluded world of mystery, light magical braziers and discover a way to banish the darkness once and for all. Unlock potent powerups and use the ones you like the most to overcome Chained Orbs, Rock Orbs, Survival levels and other exciting challenges. Can you carve a path of light through the darkness? Sparkle Unleashed introduces floating Orb Slinger gameplay never before seen in a Sparkle series game. The unleashed Orb Slinger floats along the bottom of the screen providing a fresh way to experience the beloved Sparkle gameplay.
Sparkle Unleashed Walkthrough
.
Sparkle Unleashed Features:
Gorgeous Graphics
Switch Window/FullScreen Mode
For Any Aged Player
Statement: Sparkle Unleashed is distributed as a trial version. Sparkle Unleashed may be downloaded free of charge, however, games may not be Resold.